On International Women's Day, it's important to recognize the achievements and contributions of women around the world, and for us to recognize the hard work, dedication, and contributions of the amazing women working at Blarney Woollen Mills. The women of Blarney Woollen Mills play a significant role in the success of the business and the local community. Many of these women have been with the company for years and have helped it to grow and thrive. They truly are committed to preserving Irish culture and heritage.
The women who work at Blarney play a vital role in the success of the company. They are involved in all aspects of the business and their achievements serve as an inspiration to women everywhere and demonstrate the important role that women play in business and society. Today, the company continues to be family-owned and operated, with women making up a significant portion of its workforce. Their hard work and dedication have helped to keep this beloved Irish brand alive and thriving for almost 200 years and have contributed massively to our company's success!
Get to know a handful of the many amazing women working here with us at Blarney Woollen Mills below:
Geraldine Walsh – Senior Sales Assistant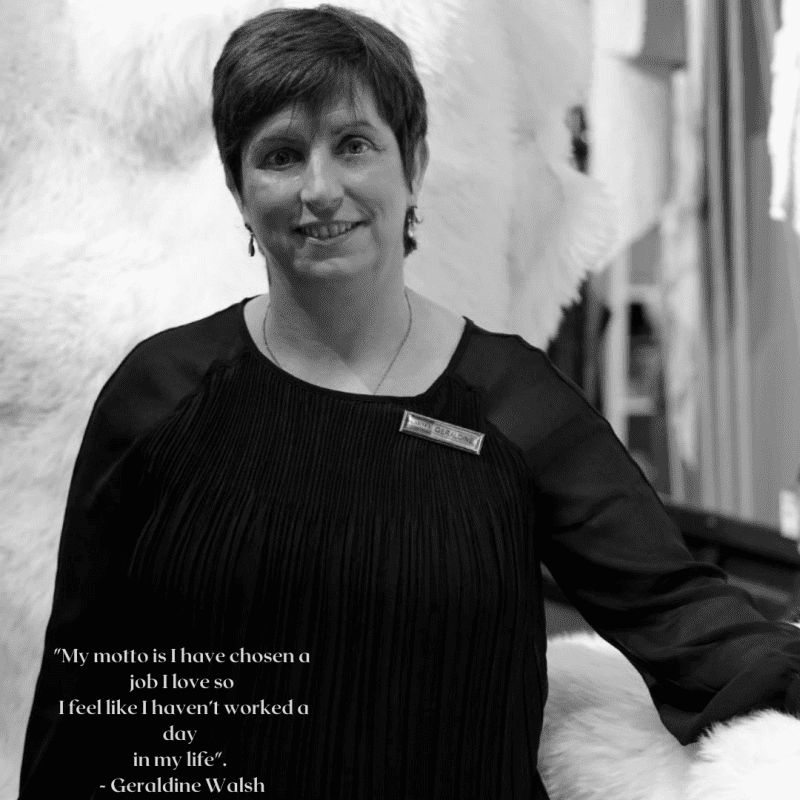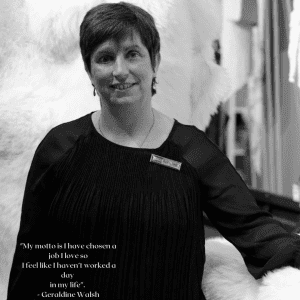 Tell us a bit about yourself…
My name is Geraldine Walsh and I am 58 years old. I have worked in Blarney Woollen Mills since I was 14 years of age, starting in the original thatched cottage. I am coming up on 44 years of service! I enjoy coming to work every day and meeting everyone that comes through our doors. My motto is I have chosen a job I love so I feel like I haven't worked a day in my life.
I have in worked in every department in the business when required from the hotel, to despatch and obviously always in the retail store. I have experience in every department and was known for some time as the Lady of the Arans!
Which women inspire you the most?
The original inspiration in my life was my Mother, she gave me all the qualities and work ethic that I use every day. She taught me how to be kind, empathetic, always smiling. Her motto was "It costs nothing to be nice", and I remember that advice every day to ensure our customers receive the 5 star treatment they deserve in our store.
How do you influence your colleagues around you and the wider business?
I feel I influence my colleagues positively by sharing my experience and knowledge of the business with them. Training them to understand the way of Blarney Woollen Mills, with patience and understanding. I try to always support them as we are not like any other retail business. We have international and domestic customers and they are all different and every one of them is a VIP and making sure we tailor what we do for each individual customer sets us apart.
If you could pick one Blarney product to give to a woman who inspires you what would it be?
I would choose the Aran sweater, because every stitch tells a story and when you choose your Aran it is made with love and has our Irish heritage engrained in every pattern. If I was to pick a specific style it would be the Mary Lumber Cardigan as I love the natural color pallet that is inspired by our rural landscape.
Lorraine Ahern – Blarney Customer Service Manager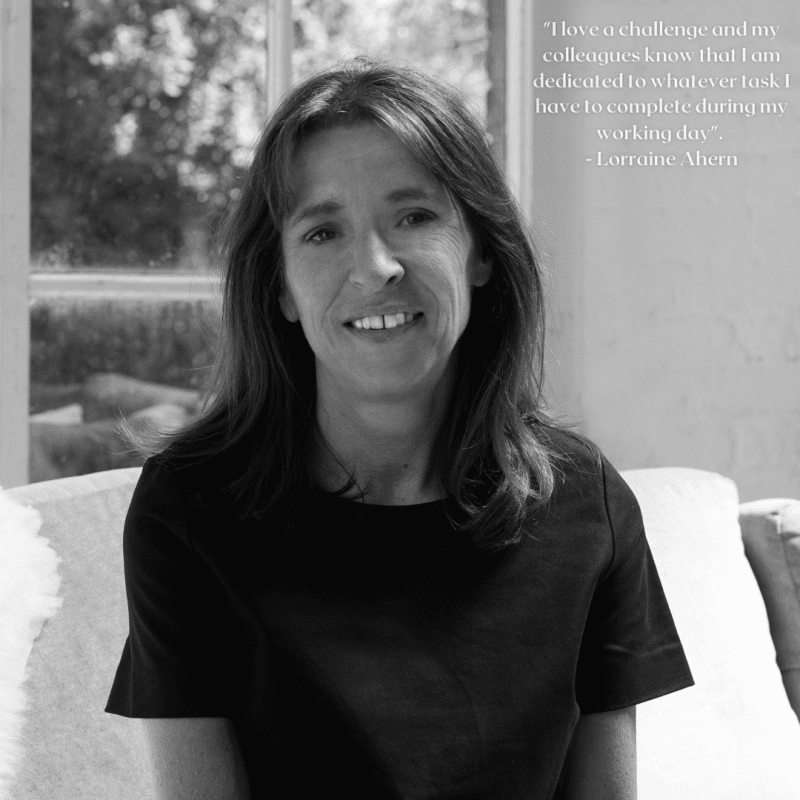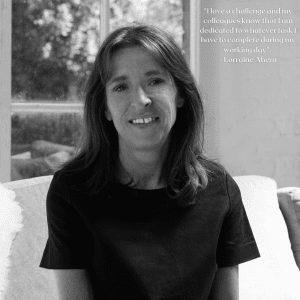 Tell us a bit about yourself…
I joined the company in 1988, aged 18. It was my first real job. I started in the office with general administration work. The time was before email etc. so we contacted customers through letters, fax, or telephone. There was no internet or websites or online shopping as we know it today but we did have a print catalogue. Within a couple years, I was offered a supervisor's role in our packing and shipping department. We picked, packed and loaded containers for the journey to be delivered to our worldwide customers. I then moved on to Customer Service and never looked back.
Blarney.com just bloomed throughout the years. We have always been aware that what makes us so successful is being accessible and personable to customers. We believe that just because everything is electronic these days, it doesn't mean you have to lose that personal touch. At Blarney Woollen Mills, we all work together as a team to provide our customers with the best possible online shopping experience.
Which women inspire you the most?
The women in my family. My mother has been an extraordinary influence on my life, I miss her every day but the lessons she taught me will remain with me forever. My sister had a tough time when her husband passed in his early 30's and she was left a young widow with three small children. She went on to rear their three amazing children on her own. They are young adults now and an absolute credit to her.
How do you influence your colleagues around you and the wider business?
I love a challenge and my colleagues know that I am dedicated to whatever task I have to complete during my working day. I try to be polite, kind and professional and make sure that I do my job to the best of my ability. Yes, we all have off days, but then we just need to pick ourselves up and keep going.
If you could pick one Blarney product to give to a woman who inspires you what would it be?
Something really personal such as the Mullingar personalized Claddagh Box. It can be inscribed with whatever special message that you intend for the recipient and is a keepsake that can be kept forever.
Becky Kearney – Blarney Despatch Manager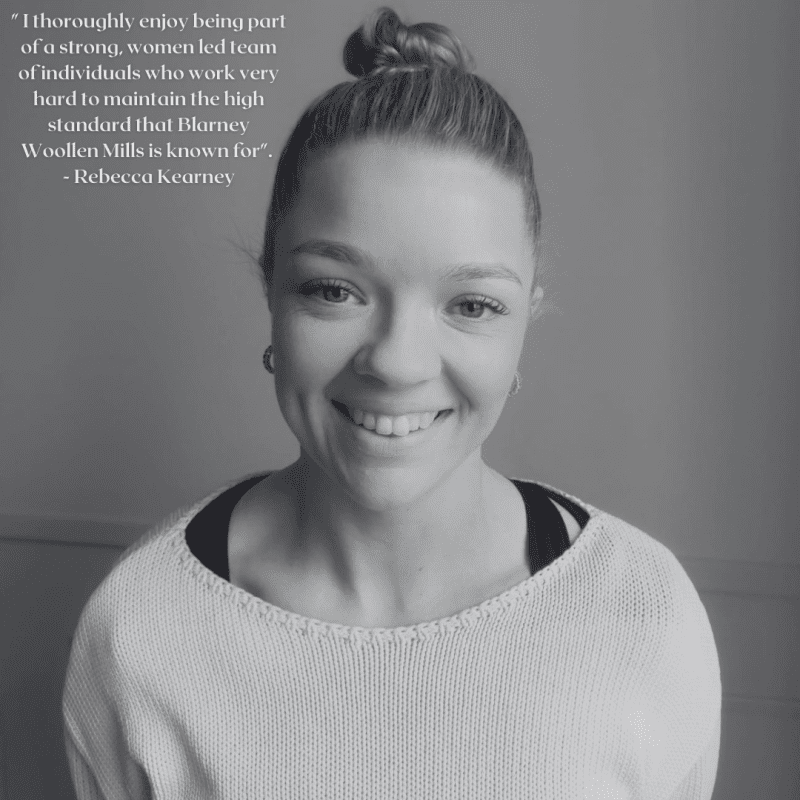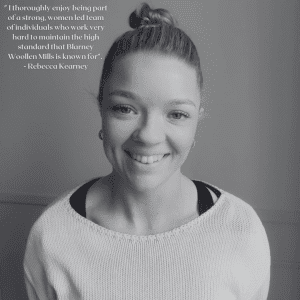 Tell us a bit about yourself…
My name is Becky Kearney, I am 28 years old and I am from Donoughmore, which is only 10 minutes from Blarney itself! I am the despatch manager here in Blarney Woollen Mills. I am responsible for ensuring all of the customer orders from both our online stores and physical stores are picked by my team, packed with care to the highest standard and shipped all over the world. I am proud to say that I started here as a temporary packing assistant and have worked my way up to my management position over the past few years.
Which women inspire you the most?
My biggest inspiration is Katie Taylor, women's international boxer, as I feel she represents Ireland in such a positive light. She inspires me by showing what hard work, dedication and commitment can achieve. I have put this in practice myself both in and out of the workplace and I feel it shows by how I have made it to the position I am in at the moment.
How do you influence your colleagues around you and the wider business?
I look after a team of 6 who work very hard to ensure our customers receive the highest level of service possible. I feel I influence my colleagues by always aiming to lead by example and support them in their learning and development at all times. I work closely with the retail managers, web teams and customer service, so I always try to be a helpful and positive cog in the big wheel that is Blarney Woollen Mills. I thoroughly enjoy being part of a strong, women led team of individuals who work very hard to maintain the high standard that Blarney Woollen Mills is known for.
If you could pick one Blarney product to give to a woman who inspires you what would it be?
I would choose the emerald Claddagh ring as it represents such an inspiring meaning. Emerald is said to promote friendship, peace, harmony by enabling the wearer to both give and receive unconditional love.
Vicky Madden – Blarney Retail Assistant Manager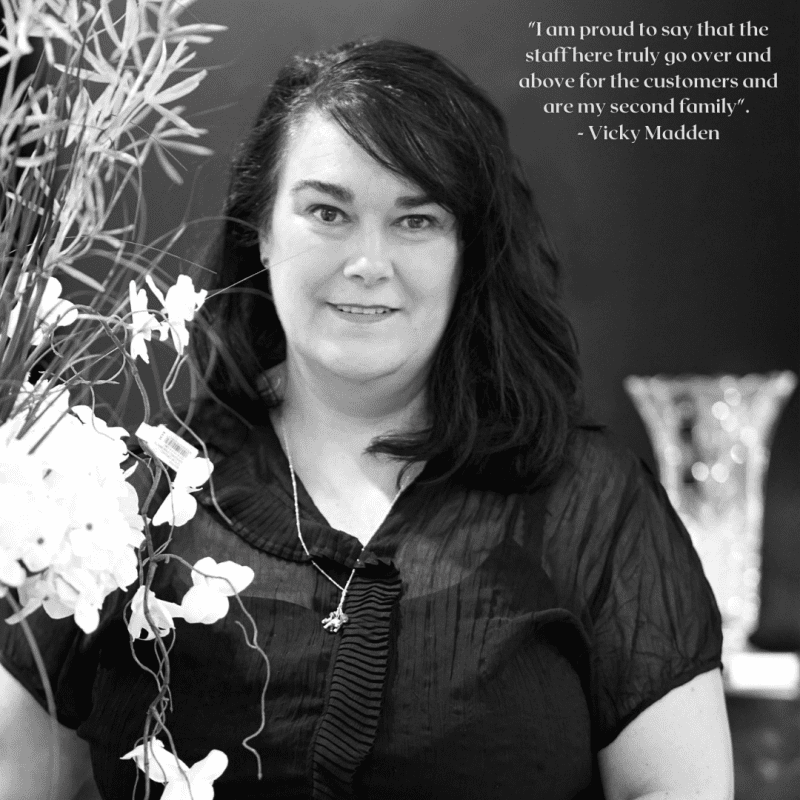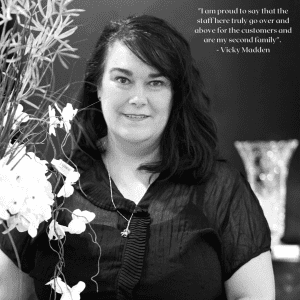 Tell us a bit about yourself…
My name is Vicky Madden, I am the assistant manager of the flagship Blarney Woollen Mills store. It feels like I have been at Blarney for a lifetime! I have been working here for almost 35 years! No two days are the same here! I usually start each morning with a staff check to make sure everyone is on the floor and that they are all in the right departments. However, the next minute I could be doing anything from serving customers to organizing a sale or planning a cruise.
My favorite thing about the job is the fact that it keeps me so busy. Every single day is different and brings its own challenges and rewards. When I started working in the store, I began as a sales assistant in the crystal department. After that, I was promoted to department manager and in 2015 I became an assistant manager, so I am very proud of the lifetime of service and having worked my way up the management system.
The shop has improved leaps and bounds over the years. I can honestly say that our standards are second-to-none when it comes to the quality of the product. I am proud to say that the staff here truly go over and above for the customers and are my second family. In fact, I'm with them longer than I am with my own family!
Which women inspire you the most?
I am inspired every day by my other 3 management colleagues, Gillian, Suzanne and Olivia. We are very proud to be an all-woman management team of such a successful store. It is amazing to see Irish women at the forefront of retail.  Also, our own CEO Freda Hayes, who has been at the helm of this company and has lead us through all of the highs and lows of tourism and retail. I try to treat every day here as if it is my own business, ensuring I know all of the ins and outs of the day to day.
How do you influence your colleagues around you and the wider business?
I look after a team of up to 50 who work incredibly hard to ensure the Blarney Woollen Mills experience is of the highest standard of customer service possible. I am part of a wider management team of 4, who all are also women and we support each other every day in leading our teams. I hope that my experience over the last 35 years means that I have been and continue to be a good leader within my team.
If you could pick one Blarney product to give to a woman who inspires you what would it be?
I would choose the History of Ireland ring as it is intricately etched with twelve symbols; each symbol expresses a key story or event in Ireland's heritage and history. It would make the perfect lifetime gift for any woman.
Honorable mention: CEO Freda Hayes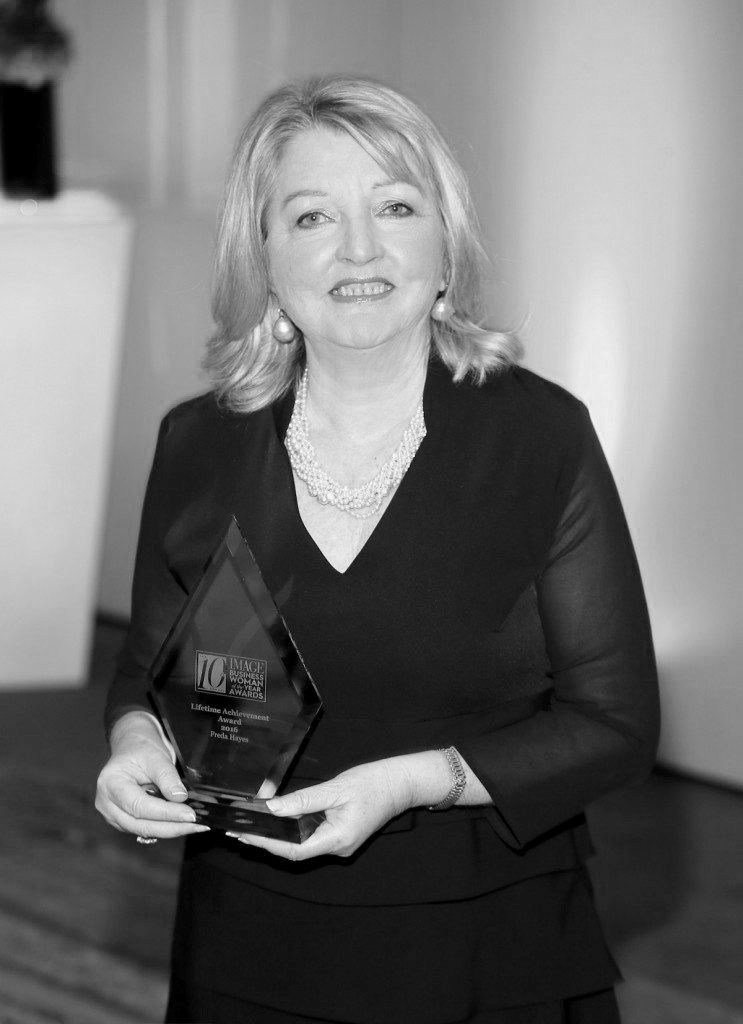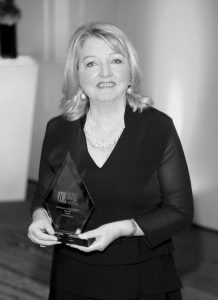 CEO of Blarney Woollen Mills, Freda Hayes, has dedicated most of her life to the Blarney Woollen Mills brand. Freda left school at 16 to help her family run their craft shop at the thatched cottage, which was located outside Blarney Woollen Mills. Freda's father Christy Kelleher bought Blarney Woollen Mills in 1975. Christy wanted to show off, through this Irish gift shop, the very best of what Ireland had to offer!
Family has always been at the heart of the Mills. Freda continues her father's legacy to this day, expanding the manufacturing of Blarney Woollen Mills knitwear and having a hand in the creation of the very popular Fisherman Out of Ireland brand. Tourists can't get enough of Blarney, with over 600,000 annual visitors to the mills and many returning customers. Freda has massively contributed to the widespread success of Blarney Woollen Mills and it's legacy!