– – – –
"Let the unexpected colour and cheeriness of traditional Irish dress inspire a stylishly exuberant winter wardrobe".
By Karen Cafferkey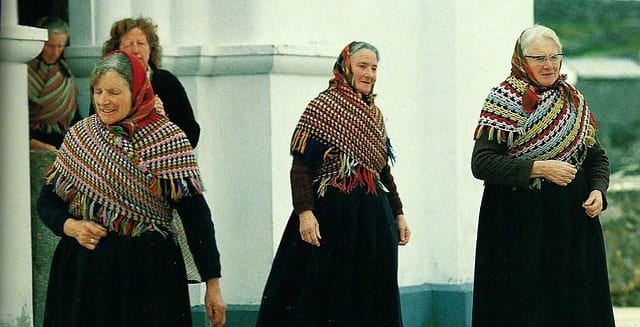 The typical nineteenth Century portrait of rural Ireland is nearly sure to contain a thatched cottage with an Irish countrywoman positioned at the front door. More than likely, the rural dweller will be wrapped in a thick woven, knitted or crocheted shawl; bundled up, shielding herself from the cold wind.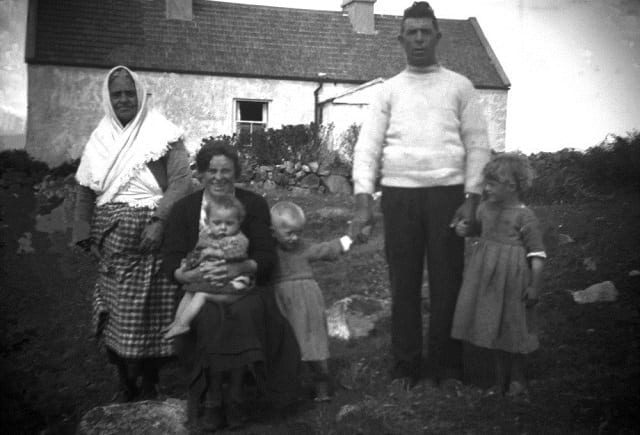 This iconic imagery, these scenes of ordinary rural life, have captured the imaginations of artists, playwrights and poets for centuries. Paul Henry, Lady Augusta Gregory and John Millington Synge all depicted the romantic, yet often harsh, realities of Irish country life. For them, the landscape and the people of 'vanishing Ireland' provided vision, inspiration and motivation for their creative energies.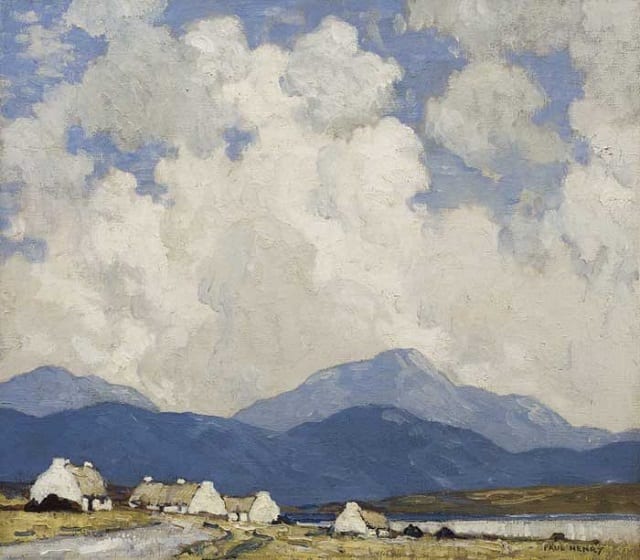 There is a unique stark beauty to the simplicity of much of the archived imagery of the West of Ireland. However, it's important to remember that, with the exception of some of Paul Henry's paintings that are infused with splashes of striking blue and purple tones, much of the archived monochrome photography and sketches of rural Irish life depict quite drab, flat scenes.
The black and white photos from the late nineteenth and early twentieth Centuries, for example, will never be able to accurately illustrate the vibrancy of the real life scenes that they attempt to record.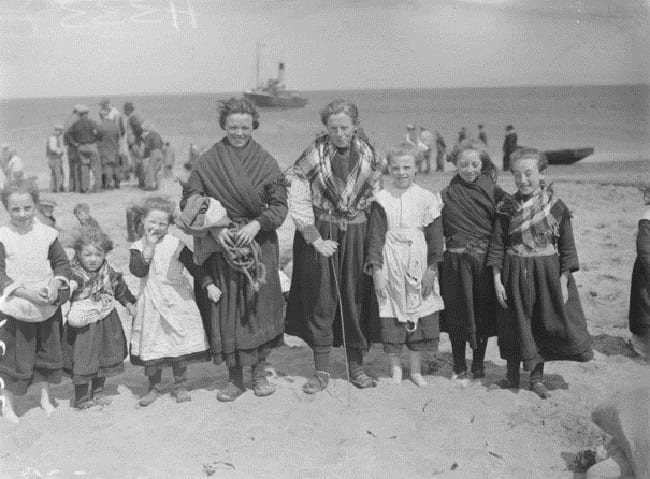 Day-to-day rural life in Ireland during this period may have been harsh in many respects; in terms of traditional clothing, however, there was an apparent sense of joy.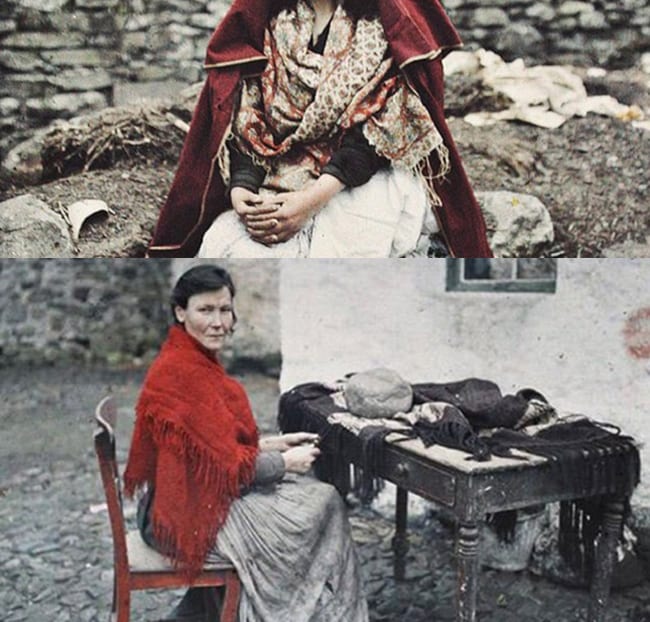 A glimpse at some of the traditional shawls worn in Inis Meáin, demonstrate how truly important colour was in the lives of rural Irish communities. Red petticoats and plaid shawls were quite often the norm; in fact, red was a key tone – red wool was frequently knitted or woven with grey and white colour accents ensuring that island textiles were infused with a cheery dash of vitality.
Today, the very coolest members of the 'front row' fashion set may tend to turn to grey and black tones as their 'go-to' colour choices.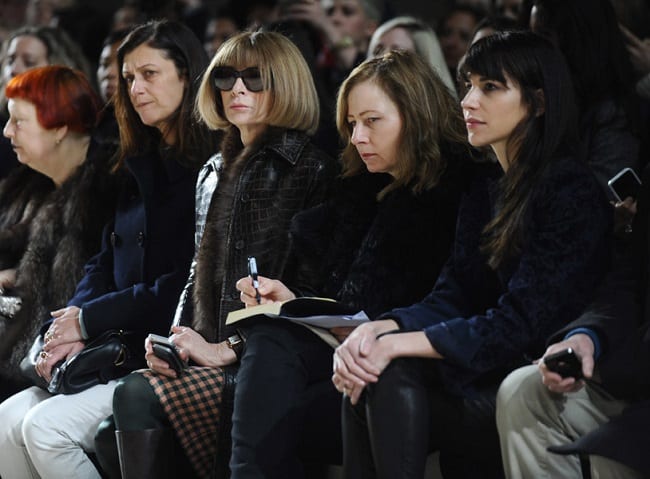 Stylish does not, however, need to equate to dull.
When next faced with a baffling 'what-to-wear' moment, why not take a leaf out of the Aran woman's 'style guide'?
While their lives were undeniably tough in many respects, perhaps the women of the Aran Islands knew that the simple pleasures in life are the ones that we truly need to treasure.
So, if 'nothing-to-wear' syndrome is getting you down (or you just feel as though your life is in need of a little dose of pick-me-up colour and cheeriness), it might be an idea to think like a stoic Aran woman – throw an exuberant red, plaid or multi-coloured shawl around your shoulders and shake off any sense of lingering everyday dullness!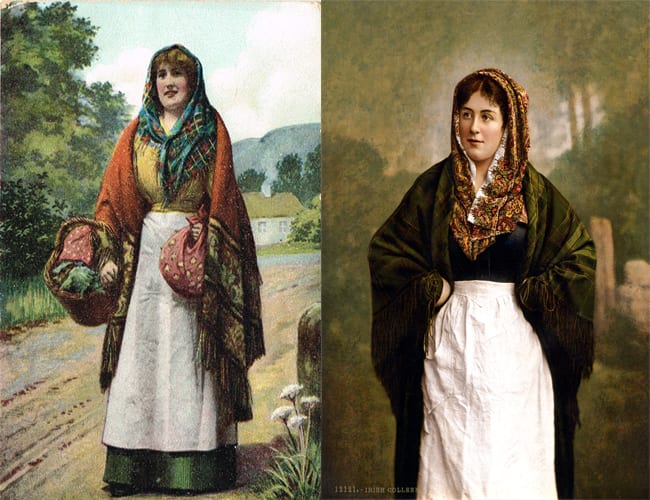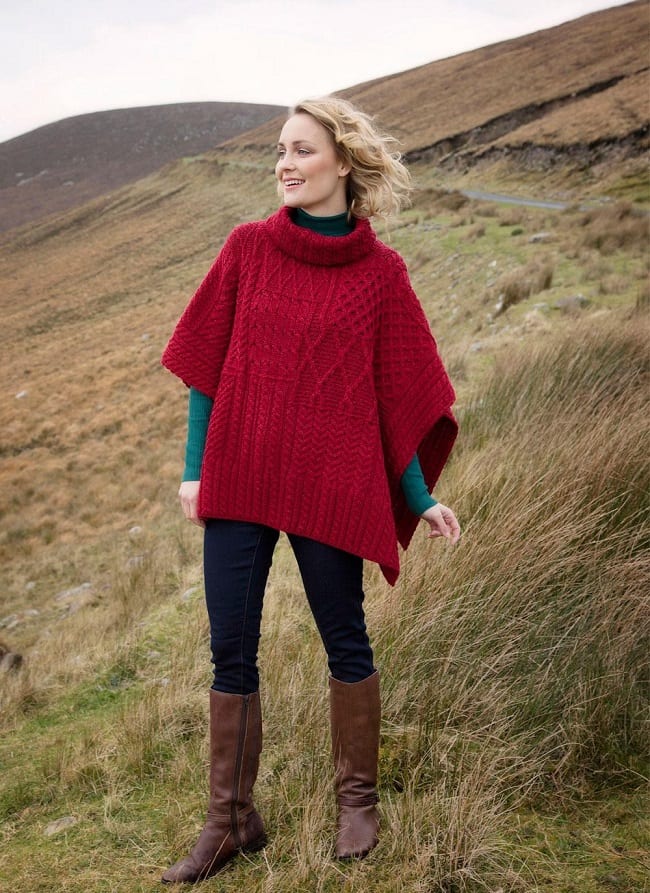 Learn more about the history of Blarney Woollen Mills.