Q&A with Garrett Mallon, Founder, Owner and Designer of Garrett Mallon Jewelry:
Q: What was the inspiration behind the creation of your brand and how did you get started in the jewelry industry?
A: I started working in the jewelry business as soon as I left school. I completed a short jewelry course and won a scholarship to undertake a pre-apprenticeship course in London. After this, I moved back to Dublin and completed a traditional apprenticeship at the jeweler's bench, working for one of the larger jewelry companies in Dublin. I ended up as head of the workshop, but coming from a family of entrepreneurs I had always hoped to start my own company creating my own designs. After the birth of my second child I decided to take the leap of faith, left my job and moved to County Louth. I started to create my own collections which I took to Showcase, the largest craft trade fair in Ireland, with the help of my local County Enterprise Board. The business has been growing since, and I still supply my work to some of the shops who ordered with me 16 years ago.
Q: What was the first piece of jewelry you ever made?
A: My first collection, which is still one of my best sellers, is the Cloicín (from the Irish for small stone) collection. Inspired by the stony shoreline of Carlingford Lough which I had just relocated to when the collection was born. The surface of the pieces are etched to reflect the sandy shoreline and then there are textured 'stones' to reflect the pebbled shoreline. The first piece in the collection was my take on the traditional Irish Torc and it is still one of my favorites.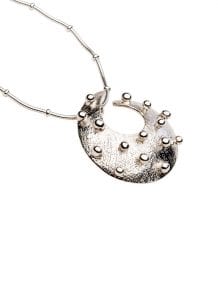 Q: What words would you use to describe your style as a designer?
A: Sculptural in nature.
Storytelling pieces.
Textured – I like to combine metals and textures.
Contemporary designs using traditional skills.
Q: Your pieces are inspired by your Irish surroundings and Irish folklore. What is one of your favorite Irish folklore stories?
A: My Grandfather was the local school headmaster and as a child I loved travelling from Tyrone to Omeath in Louth to spend time with him. He would spend hours telling me about Irish folklore stories and he had a book which had a selection of unusual stories including one about The Luck Child. A fairy child was found wrapped in a mantle of golden flowers by three cattle herders from the High King of Ireland. They hid her and raised her as their own, believing she was from the Hidden People and she would bring them good luck. I created a collection by the story of The Luck Child and the pendant is accompanied by a story card relating the story. There is a featured line 'One day she will come in to her own and bring great joy' which I have highlighted in the accompanying card and it is a very popular gift for christenings and weddings.
Q: You've been working as a goldsmith for over 30 years. What do you love most about the work that you do?
A: I am a maker who likes to create at the bench and almost see how the piece evolves, which is why my work is often sculptural in nature. Jewelry is often given as gift to represent a significant or emotional event in an individual's life and I love that my work and designs are often a part of the story. I enjoy working on one off commissions as I get great enjoyment from translating a client's ideas and emotions into new pieces of wearable art.
Q: Do you have a favorite piece from your jewelry collection?
A:  That is a very hard question! I have different collections over the years and each will hold its own appeal to me. I do still like the Cloicín range and another favorite is The Voyage Collection. Most people in Ireland are familiar with the Johnny Duhan song that was covered by Christy Moore and it has played a part at many an Irish wedding, including my own. I created a range of pieces including pendants, cuff-links and earrings and these pieces are often given as wedding or anniversary presents or indeed for people starting on their own new voyage at key points in their life. Each piece is accompanied by a care card containing the lyrics of the song which I was allowed to use by Johnny Duhan.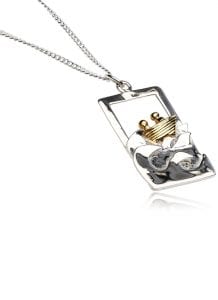 Q: In 2014 you set up your very own jewelry school. Tell us about the courses and what people can learn here:
A: In 2014 I opened Carlingford Design House which is a dedicated gallery for craft designed and made in Ireland. In the middle of the gallery I have my open-to-view workshop so visitors can see me working at the bench. I also have a small jewelry school with individual benches which allow me to take small personal classes from 2 people to 8 people. I run Make Your Own Wedding Ring courses for couples who come to the workshop and spend an entire day with me making their own weddings rings from scratch. I have also hosted small groups of friends or family who come together to make pendants or rings during a morning class. The students get to use a number of tools to shape and create their own unique piece, and while they have tea and cakes in Ruby Ellen's Tearooms beside us, I finish the pieces. They take home something truly special having spent a fun day together.
Q: What is in your own jewelry box at home?
A: I don't wear too much jewelry but I have added my mother's wedding ring to my own so that I have her with me every day. I also have some unique cuff-links that I have make for special occasions. My wife and daughter however have got lots of one off pieces – always a great Christmas and birthday gift.
Q: What is next for Garrett Mallon Jewelry?
A: Over the next few years I hope to continue to create new collections that proves popular with the quality gift stores I display my work in. I am working on some new plans for an entire new line of work and hope to keep working with customers to create bespoke pieces from the workshop. I will hopefully be welcoming lots of new faces to the jewelry school and craft gallery in the beautiful medieval village of Carlingford.
Thank you to Garrett for taking the time to chat with us and tell us all about his beautiful jewelry designs. You can shop Garrett Mallon Jewelry both in-store and online with Blarney Woollen Mills!