The Story of the Trinity Knot
Trinity Knot
The Triquetra, Trinity Knot or Celtic Triangle is one of the most common and recognizable of the Celtic Knots.
There are many theories about the meaning of this popular design, but each one mentions the significance of the three intersecting loops. The meaning of these loops can depend on your beliefs, and can be interpreted in several ways such as Father-Son-Holy Spirit, Mother-Crone-Maiden or mind-body-spirit. The Trinity Knot is a classic symbol of Celtic culture, commonly traced back to the Celtic Christian church, but now other cultures, religions and beliefs also use the symbol, and each attach their own meaning to it. It is beautifully displayed in artwork, tattoos and of course, jewelry.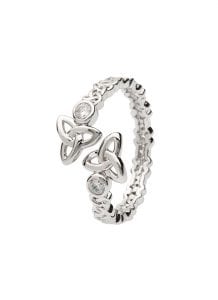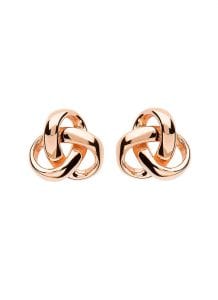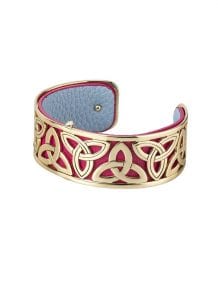 Origins
Its origins have been long argued among scholars. However, it is agreed upon that the popularity of the Trinity Knot grew hugely in Ireland following the arrival of the Celts. The Triquetra was first seen in Celtic culture in the 7th century – Ireland developed a style of art that was distinct from the rest of the world. This style of art introduced the extensive use of interlacing designs which were made up of crossed and woven strands. Examples of this can be seen in the famous Irish artefact, the Book of Kells, which was produced from the late 6th through the early 9th centuries in monasteries across Ireland.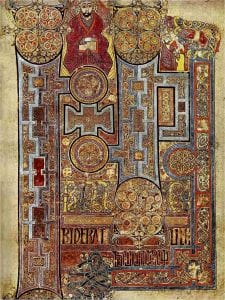 The Book of Kells
Photo source: https://en.wikipedia.org/wiki/Book_of_Kells
Today
The Trinity Knot is a beautiful and popular design for jewelry, and in particular, for wedding bands. The series of Trinity Knots symbolize the three essential qualities of marriage: love, protection and honor. It is a beautiful way to signify affection and love to a partner, or even to a relative or friend!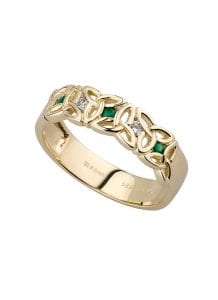 The Trinity Knot is an ancient, long-lasting legacy of Celtic culture and its significance and symbolism will carry on for many more years to come.
At Blarney Woollen Mills, we have a number of beautiful designs that incorporate the Trinity Knot, which you can shop for both online and in-store!
Banner Image by Peter Lomas from Pixabay