These melt in the mouth scones are perfect for any occasion be it afternoon tea or a picnic in the park. The humble scone is much-loved by us Irish especially when accompanied by a good dollop of fresh cream and in-season jam! 
Ingredients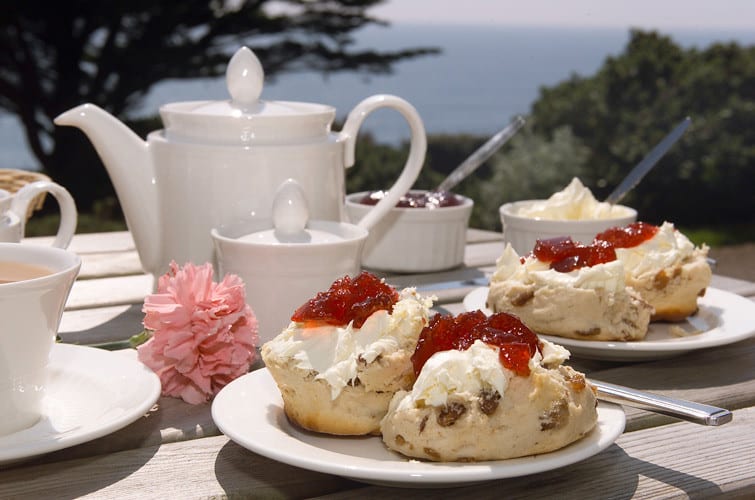 5 Cups of plain flour
2.5 teaspoons baking powder
1 level teaspoon salt
1 Cup & 2 tablespoons of butter
3/4 cup of sugar
2 eggs
1/2 cup milk
1.5 teaspoons vanilla essence
2 cups sultanas / cranberries
Jam & Cream to serve
Method
Preheat your oven to 325 (F)/ 165 (C) degrees
Mix together the flour, baking powder and salt.
Sift the dry mixture into a large bowl.
Cut in the butter and mix in using your fingers until mixture resembles course crumbs.
Add sugar and mix well.
Add eggs, milk and vanilla essence and mix well.
Add the sultanas/cranberries and blend thoroughly.
Turn the mixture out onto lightly floured surface and roll to a 1/2 inch thickness.
Using a biscuit cutter (or a glass), cut into rounds and put onto an ungreased baking sheet.
Bakefor 14-17 minutes or until bottoms are nice and firm.
Remove from oven and cool on a wire rack.
Bon Appetit!

 
Header Image Source: Karen Booth, Flickr