Founded in 2006, Green Angel creates pure and organic Irish beauty products that really work. We spoke to the fantastic team at Green Angel who shared more information about this Irish brand and the all-natural skincare they produce.
Q: What inspired the creation of the Green Angel brand?
A: Growing up Mary used to add essential oils into shop bought creams as she could never find a suitable cream for her dry skin.  She soon learnt the powerful healing and therapeutic benefits of botanical plant oils.
Chris growing up used to pick seaweed for his Mum to make a daily seaweed poultice for a wound on his Dad's leg. Chris also had a seaweed bath at weekends and learned of its wonderful healing benefits.
When Chris & Mary met, they saw a gap in the market and decided to combine their knowledge and two ancient therapies – Thalassotherapy (the use of seawater & seaweed) and Aromatherapy (the use of essential oils) to make a 21st century superior skincare range.
Q: What was one of the first ever products that was made?
A:  The Green Angel Body Smoother.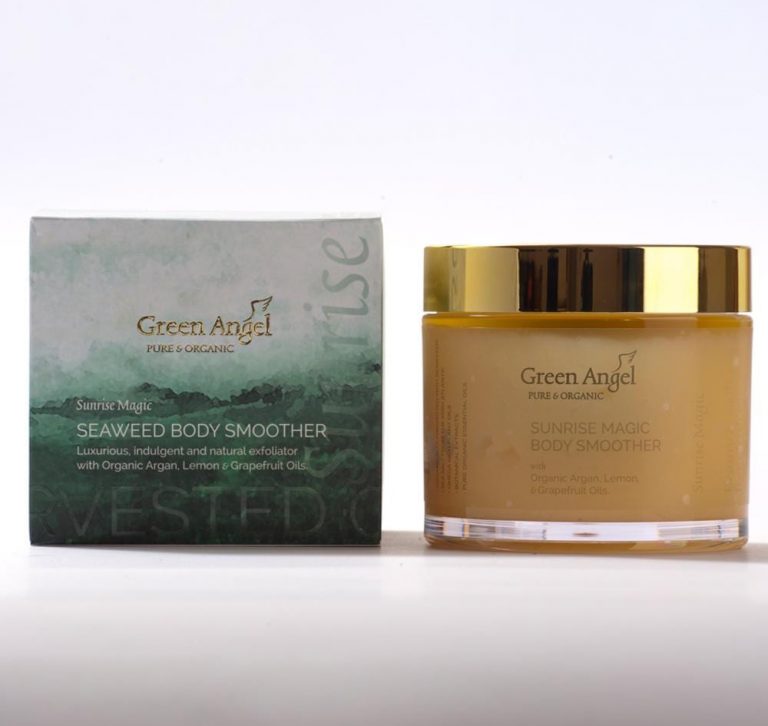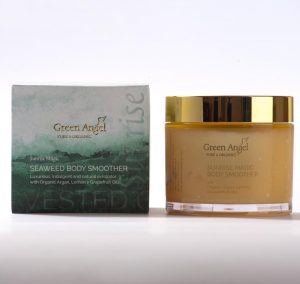 Sunrise Body Smoother
Q: What are some of the benefits of Irish seaweed, an ingredient that is key to Green Angel products?
A: Seaweed is packed with vitamins, minerals, trace elements, iron and antioxidants that help protect the skin cells from damage. The amino acids in seaweed helps the skin to plump up, helping to smooth out fine lines with its anti-aging properties. The healing powers of seaweed is also very helpful for skin problems.  The makeup of seaweed is almost identical to that of the human blood plasma so it blends beautifully into the skin.
Q: How important is it for the ingredients found in Green Angel products to be natural, pure and organic?
A: When you choose skincare that includes organic active ingredients, you are choosing products that work with sophisticated natural systems of your skin. These ingredients are grown without the use of GMO's, pesticides and synthetic fertilizers. Using chemically polluted products will interfere with the natural healing of the skin, how it regenerates and detoxifies itself. Using natural and organic products is also much better for the environment.
Q: Has there been a noticeable change in the last few years of consumers becoming more conscious about their skincare and the ingredients that go into making them?
A:  Yes, very much so.  The consumers nowadays are very conscious about what goes onto their face and bodies and are becoming very educated on what ingredients go into each product.  The trend for natural and organic is growing and awareness about the harmful effects of chemicals and synthetic products is a factor increasing the growth of this market.
Q: What do you find is the most popular product from the Green Angel line?
A:  The Green Angel Seaweed & Collagen Face Cream is the most popular product.
Seaweed & Collagen Face Cream
Q: What has been one of the highlights since the company began over 10 years ago?
A: There have been many highlights over the years – I guess winning awards for various Green Angel products, for winning an award for Best Business of the year with under 50 staff and also Business person of the year. It all helps to cement the credibility of Green Angel and helps boost the company's profile.
Q: What is next for Green Angel?
A:  Green Angel has clear goals for growth that support the team's vision of becoming a major export player.
Thank you to the fantastic team at Green Angel for taking the time to answer our questions and teach us more about the all natural, organic and Irish made beauty brand. You can shop a range of Green Angel products both online & in-store at Blarney Woollen Mills.