With over 50 cruise liners sailing into Cork Harbour in 2016, Cork has become a popular destination for over 100,000 passengers to explore when arriving at the scenic south of Ireland. With a variety of tours & destinations available to each visitor it can be difficult sometimes to decide what to do. Blarney is one of the most popular tourist attractions in Ireland, promising not to leave any visitor disappointed, steeped in history and offering an array of things to do in this beautiful part of the country.
There are several shore excursion providers that cruise passengers can book with, who include Blarney as a destination on their tours. These include CIE Tours, Excursions Ireland, Paddy Wagon Tours & many more.
Blarney Village History
The village is located 20 minutes from Cork city/ 40 minutes from Cobh town and is set in a charming wooded river area. Dating back to the 18th century, Blarney was home to a number of mills and has a long history of milling and weaving. The village itself was built around the mills for the workers to live. The mills history continues to live on in at Blarney Woollen Mills, where visitors can enjoy some shopping at this popular location.
Places to Visit
Blarney Woollen Mills, Blarney, Co. Cork
Visit "The largest Irish store in the world" where you will find a wide selection of sweaters and woollens, crystal and china, gifts and souvenirs for all the family, this famous store has something for everyone.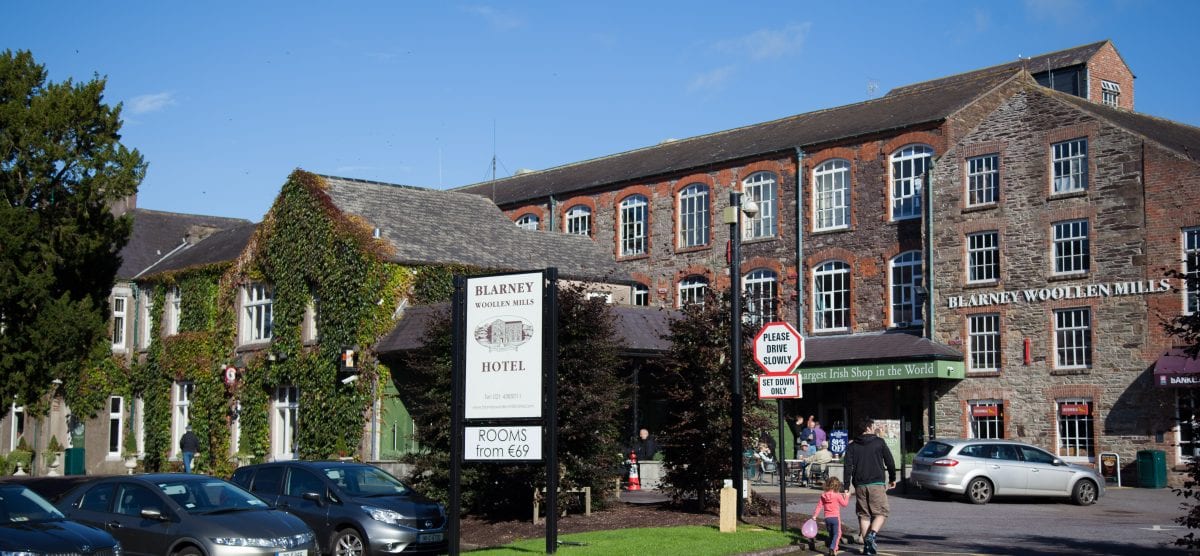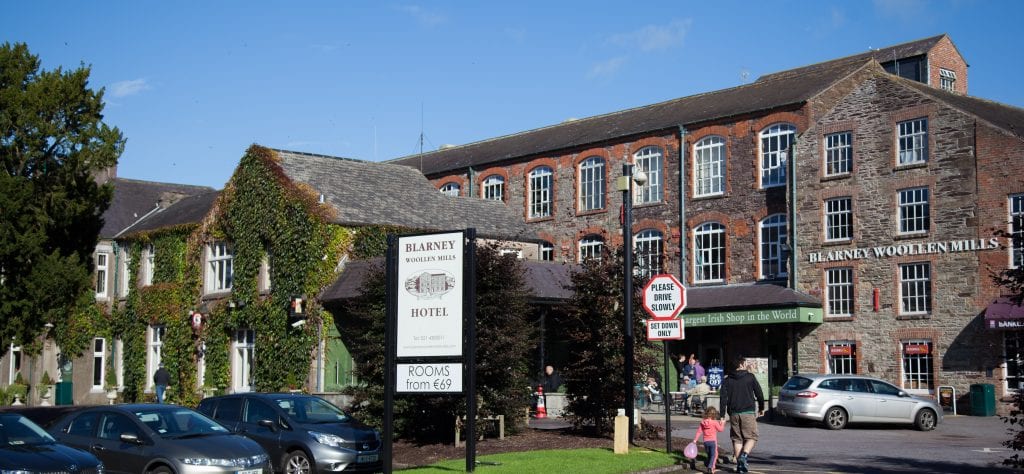 Blarney Castle & Gardens
Built nearly six hundred years ago by one of Ireland's greatest chieftains, Cormac MacCarthy, and has been attracting attention ever since. Over the last few hundred years, millions have flocked to Blarney making it a world landmark and one of Ireland's greatest treasures.
The Mill Restaurant, Blarney Woollen Mills
The Mill Restaurant has a fresh and exciting food offering, capturing the essence of local produce, traditional favorites and delectable desserts. Serving breakfast and lunch daily and not forgetting delicious cakes and treats for you to enjoy over a cup of tea or coffee.

Blarney Chocolate Factory
Nestled in the heart of mystical Blarney, our chocolate factory is quite simply, magical. Marvellously gifted chocolatiers have lovingly hand crafted each and every piece of chocolate so that their skill and passion can be tasted in every joyful mouthful.
Muskerry Arms
The Muskerry Arms is a family-run pub and B&B serving food all day in the heart of the bustling village of Blarney, just minutes from Cork City. The Muskerry Arms provides the ambience of a great Irish Pub with old world charm and character.
Afternoon Tea at Blarney Woollen Mills Hotel
Indulge in Afternoon Tea at the Blarney Woollen Mills Hotel. Sit back and relax in the newly furnished foyer of the hotel whilst enjoying your afternoon tea experience. A great way to catch up with friends or to celebrate any special occasion.
This list showcases but only a snapshot of what the charming town of Blarney has to offer to all visitors!